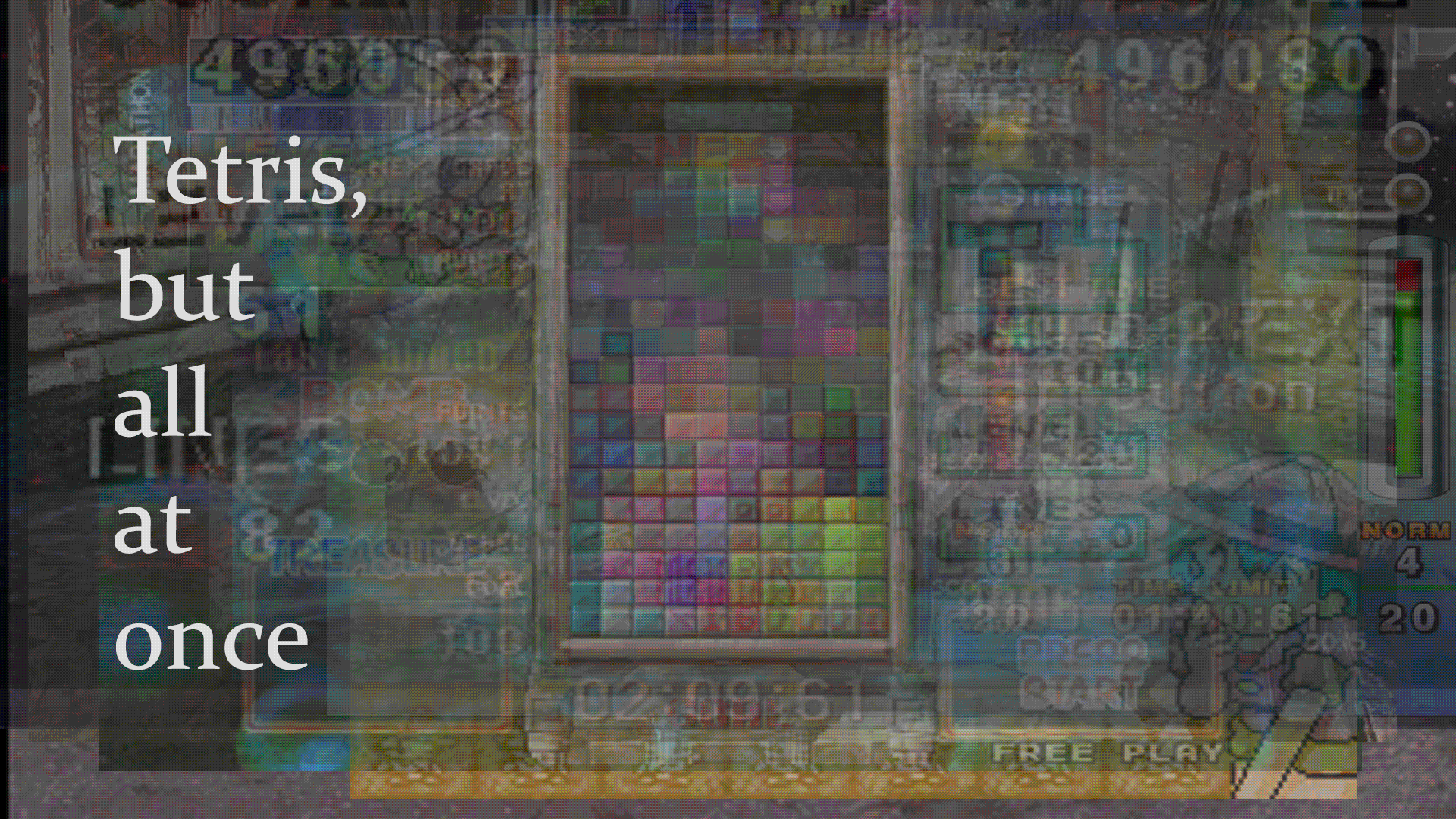 Tetris, But All At Once [public version]
A downloadable emulator script for Windows
Ever just wish there was more tetris? Look no further, with Tetris, but all at once. Every time you clear a line of tetris, a new one spawns. Through being able to control many instances of tetris at once, discover and feel the textures of each game.

*Note: This public edition of the game does not come with included ROMs of Tetris games. You will need to obtain your own in order to play this. Feel free to contact me if you have any questions about this.
Tetris Game ROMs that this supports:
Tetris (1989) -Game Boy
Tetris (1989) -NES
Super Tetris 3 (1994) -SNES
Tetris 64 (1998) - Nintendo 64
The New Tetris (1999) - Nintendo 64
Magical Tetris Challenge (1999) - Nintendo 64
Tetris Worlds (2001) - Game Boy Advance
Tetris DS (2006) - Nintendo DS
Major credit goes to Alistair Aitcheson's Magic Box, please check it out for cool emulator tricks!!
Controls:
- z / x: rotate
- arrows: move piece
Download
Download
TBAAOUpdated1-17PublicVersion.zip
102 MB
Install instructions
1. Download the TBAAO zip file provided on this page.

2. Download Tetris ROMs (see supported Tetris game list in game description)
3. Place Tetris ROMs in CurrentROMs folder
4. Close all other open windows or applications for TBAAO to run correctly
4. Run Tetris,ButAllAtOnce.bat or Tetris,ButAllAtOnceQuiet.bat in the main folder
5. Have fun!